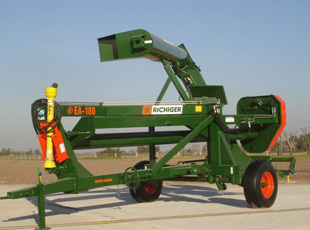 Richiger EA-240 Grain Bag Unloader
In Stock Now!
Most Efficient System Ever Devised!
Click here to watch a demonstration video!
Richiger's EA-240 Grain Bag Unloader is fundamentally different from other equipment used to empty out grain bags as it relies on a hydraulic motor to smoothly and automatically pull the tractor unloader at a stable pace. The EA-240's self-trailering feature means outstanding towing aptitude. Not only is it designed to be taken along roads and into fields, but also switching between work and transport positions is accomplished in less than one minute. This system is so easy to operate that only one operator is needed to oversee the work.
The capacity of the EA-240 is approximately 180 tons per hour and the protective enclosure around the grain collecting augers permits adequate grain flow at all times while also keeping the operator out of harm's way.
We guarantee that our bag unloader is the most efficient system ever devised to unload grain from bags.
Three Levers and a Switch handle all hydraulic movements,(raising and lowering the discharge auger, setting clearnace to the ground, driving the pickup roller forward or backward, and regulating roller speed)

Self-trailering: Can be switched between work and transport positions in less than a minute.

Can unload approximately 8,500 bushels of corn an hour (220 tons).

Only one person is needed to oversee work, making the EA-240 very time and man-power efficient.

Standard for 10 ft. bags, with optional extensions for 9 ft.

Hydraulic motor with variable flow valve

Cutter blade

Gear cases that protect the roller and the auger


Virtually no grain loss (Compared to conventional push and shove unloader)
---
Richiger R-9 Grain Bagger
In Stock Now!
We Meet Your Production Needs
Click here to watch a demonstration video!
Don't stop harvesting. Store your grain as you harvest it, with maximum efficiency and minimum operating costs. The Richiger R-9 Grain Bagger is proven, reliable, and simple to operate.  Corn, soybeans, wheat and all kinds of grain can be bagged. Click here to learn more about Richiger™ Grain Bagging Systems.

Silo or grain bags 9 ft. in diameter can store 7,800 bushels of corn (200 tons)

Ideal for big, medium and small producers, and as complementary storage space for commercial grain silos, mills, grain dryers and ethanol plants.  If there is more grain to store, you simply fill up more bags!

On-farm storage using the R-9 bagger allows you to control your grain stock directly without resorting to third parties.


Grain can be conveniently classified by tagging the bags and detailing varieties, grades, fields harvested, date of harvest, moisture content and other relevant data.
---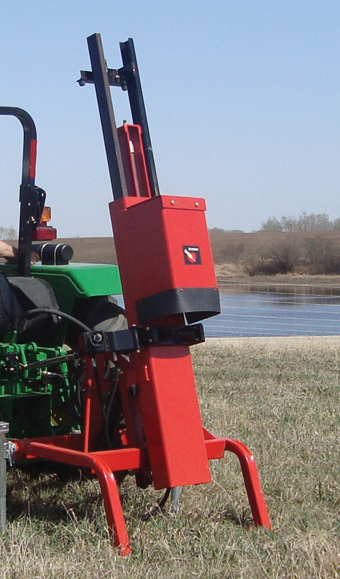 Wheatheart S2000 Post Pounder
In Stock Now!
Introducing Wheatheart's Latest Innovation

Click here to watch a demonstration video!
Wheatheart™ makes your fencing jobs easier!  Wheatheart™ offers a complete line of Heavy Duty & Hard Hitting fencing equipment designed to make fencing jobs safe, fast and efficient.  Wheatheart™ Post Pounders (Post Drivers) include conveniently located joystick controls and four way tilt mast with a post hugger.
Hydraulic post hugger

Side to side hydraulic tilt

Front to back hydraulic tilt

Hammer weight of 600 lbs with ballast

Maximum ballast is 280 lbs

9' maximum post length

Free standing

Category II and III 3pt hitch

---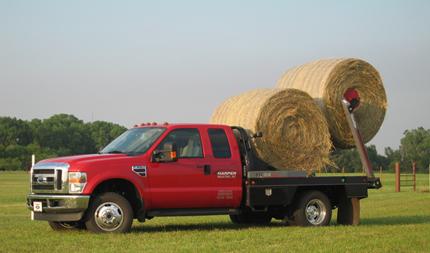 DewEze 400-500 Series Bale Bed
Bale Hauling Beds
Load - Haul - Unroll
Click here to watch a demonstration video!
DewEze bale beds have proven their durability and trouble free performance in livestock operations across the United States. Simple maintenance done once a year keeps you up and going throughout the feeding season. It's hard to find such reliability in anything but a DewEze! For additional DewEze products click here.
500 Series fits new wider trucks and bale bed is a full 8' wide

Hydraulic system with coupler at rear of the bed

Bale Bed sizes to fit any single or dually pickup from 7' to 11.5' long

Power up/power down lifting linkage

Parallel squeeze arms

Wireless remote control Zero-leak poppet type valve system

Six-inch bed frame stringers on the 500 Series Bale Bed
---
Demco 1050 Grain Cart
In Stock Now!
Shortest Turning Radius In The Industry

Click here to watch a demonstration video!
DEMCO™ has earned its reputation as the "King" of gravity flow wagons.   DEMCO™ earned it by building wagons rugged and reliable.  You'll find the Demco wagon loaded with innovative features and qualities that set the pace with farmers throughout North America. DEMCO™ incorporates the kind of quality that stands up when the demands get tough.
NEW Heavy Duty Torsion Bar Suspension on 550 and 650 models provides superior frame to box flexibility, reduces stress and improves handling.

Large, easy to operate handwheel.

POSI-FLOW design incorporates 30º side pitch, 40º end pitch.


7" x 12" grain viewing windows.

Center dump chute for pit unloading.

Light kit consisting of two 4" amber lights and two 4" red lights for added road safety.

Front mounted ladder has no-slip step with handrail on 550 and 650 models.

Heavy duty DEMCO™ running gears with structured tubing for bolsters.

Heavy duty spindles rated for full capacity.

2-wheel brakes are standard on a 450 and 550 model wagon.

4-wheel brakes on 650 model wagons.

One piece reach pipe for pull through rear hitch design on 450, 550, and 650 models.

Safety chain
---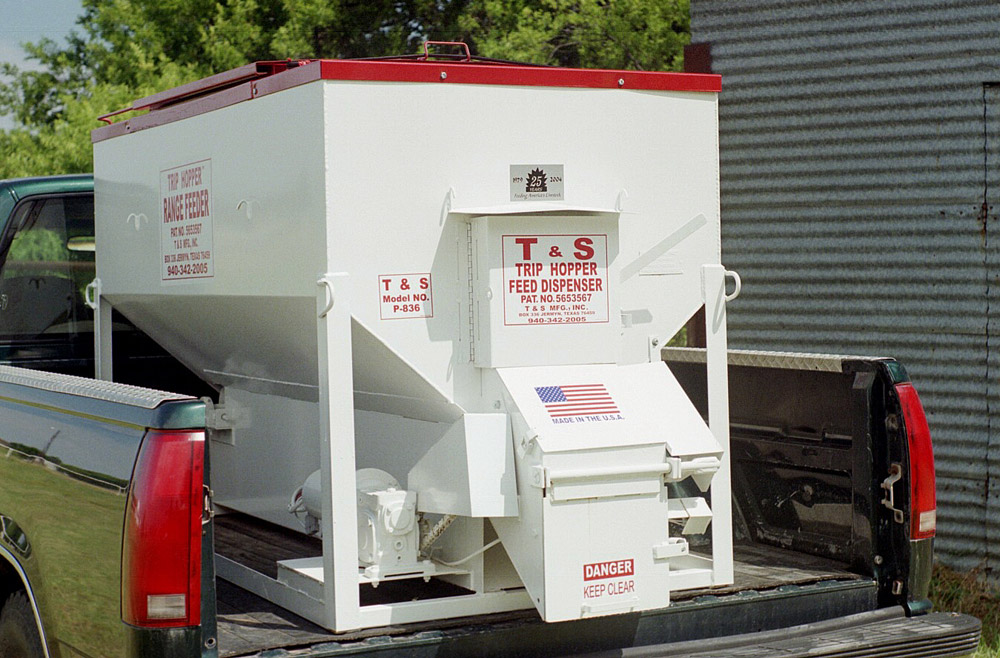 T&S Truck Model Feeder
In Stock Now!
Go Bulk With Your Feeding and Save $$$

Click here to watch a demonstration video!
The T&S Truck Model Feeders may be mounted in the back of a pickup, or they can be mounted across a flatbed. All of these feeders work the same way. The trailer is powered by the small wheel being engaged against the ground wheel. The truck model feeder is powered by a 12 volt motor that runs off the truck battery. Click here to learn more about the T&S Truck Model Feeders

Feeder powered by 12 volt motor that runs off the truck battery.

Mounted to the back of pickup or across a flatbed.

Powered by small wheel engaged against ground wheel.

12 volt motors are Constant Duty and are C-Face bolted to an oil bath gear reducer.

Feeder runs for power and not speed.

All wiring, switch and a complete counter assembly comes with each feeder.

---